MEMBERS AND THEIR LABS & GROUPS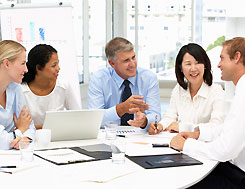 Members of the Dyspnea Society have diverse backgrounds but a common interest in dyspnea. Membership includes PhD- and Masters-level psychologists, physiologists, neurologists, nurse researchers and graduate students. The clinical representation includes physicians, nurses, nurse practitioners, occupational therapists, physiotherapists, psychiatrists and respiratory therapists. The complementary skill-sets, scientific approaches and clinical expertize of our membership are the society's greatest strengthes.
RESEARCH AREAS
With a diverse membership, the research performed by Dyspnea Society is also diverse, from neural mechanisms to chronic disease, from psychology and measurement to palliative and critical care. The purpose of the Dyspnea Society is to facilitate collaboration between these different approaches. Our shared goal is to improve the quality of the lives of patients with shortness of breath.
MEMBERS' LABS AND GROUPS ACROSS THE GLOBE
There are a number of scientific and clincial groups that are focused on dyspnea across the globe, and there is siginificant overlap of their memberships with the membership of the Dyspnea Society. The Dyspnea Meeting held every two years provides opportunity for these groups to meet, exchange ideas and expertise. Some of these groups are listed here, and if you would like your group to be included, please contact us at admin@dyspneasociety.org.
LABS & GROUPS ACROSS THE GLOBE
BENEFITS OF JOINING THE DYSPNEA SOCIETY
When anyone joins the Dyspnea Society we ask for some details about their expertise (e.g. physiology, palliative care, pulmonology etc.) and research areas (e.g. dyspnea management, neural mechanisms). These details are added to an open database that allows members to seek out and foster collaborative relationships with fellow members who may have the expertise or experience they need.
Membership also allows you to register for the bi-annual Dyspnea meeting at a discounted rate and provides eligibility for travel and student awards.
Current registration fees are $150 USD/year for faculty membership, and $30 USD/year for student-level membership.
If you would like to become a member, memberships will be available in January, 2024. If you would like to be added to the mailing list to receive updates, please contact admin@dyspneasociety.org.